In 2022, the Chinese e-commerce market saw resilience and steady growth in consumer electronic consumption. The market experienced significant fluctuations under the impact of the pandemic and macro factors. Take Smartphone category as an example - 93 million smart phones were sold in 2022, representing a 6% YoY decrease as shown by Sandalwood China E-Commerce Data. During the months of March, April, August, September, November, and December which were heavily affected by the pandemic, the market experienced significant declines at around 15%. Coupling with major promotional events such as "618" and "Double Eleven", the e-commerce market sales surely went through a roller-coaster ride.
The e-commerce consumer electronics space maintained steady growth in 2022 despite overall chanllenging environment, with sales reaching 1.3 trillion yuan (+7% YoY). Mobile devices (smartphones, VR, smartwatches etc.) collectively grew 6%; major appliances grew 10% YoY; small appliances grew 8%, whereas smart home devices grew 16% YoY. IT office equipment also grew 8% YoY. According to Sandalwood data, EV sales in China reached 5.25 million units in 2022 with a penetration rate of 26%.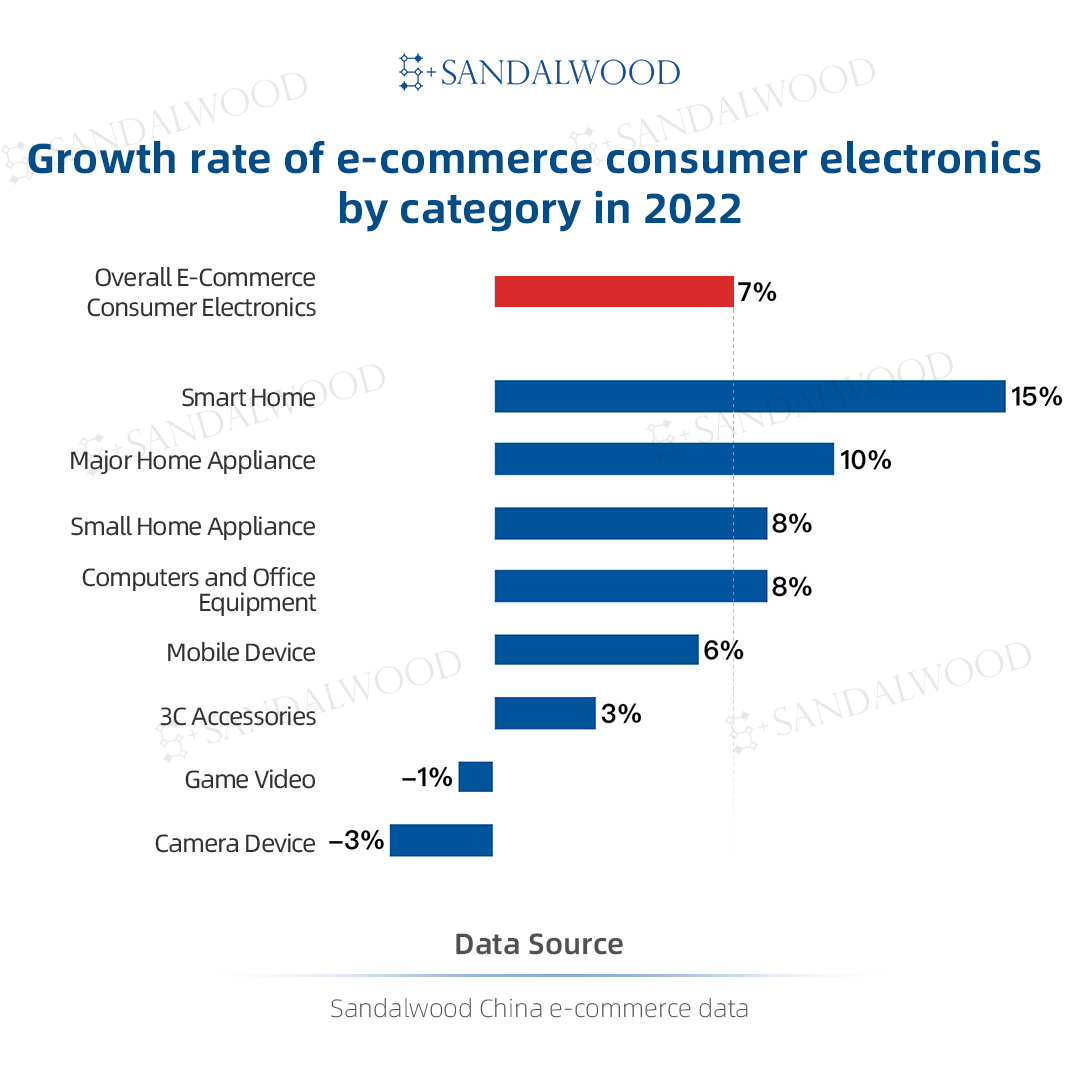 "Recovery" is the highlight for China e-commerce consumer electronics space in 2023, with a boost in both supply and demand. Looking ahead, the macroeconomic recovery and domestic demand rebound will lead to a two-way expansion of supply and demand. Multiple predictions suggest that GDP growth will exceed 5% YoY.
On one hand, e-commerce platforms benefit from the recovery of logistics, national support backing platform economy development, and overall improvement in the macro environment. On the other, e-commerce platforms are putting significant effort to improve efficiency, optimize front-end technology for shelf-based e-commerce, strengthen back-end for social and interest-based e-commerce. With internal and external elevation, China e-commerce is entering a stage of indiscriminate competition.
Meanwhile, manufacturers' overall strength and full-scenario layout have reached a higher level, forming better supply under strong competition. Taking foldable screen smartphones as an example - a product that constantly optimizes the supply side and lowers cost levels - market penetration foldable screen smartphones on e-commerce platforms reached 0.6% in 2022, and is expected to exceed 1% in 2023, reaching millions of units sold.
With improvements in e-commerce dynamics, category supply, demand recovery, and new terminals (VR, smart homes) driving demand, the consumer electronics category in e-commerce growth is expected to further accelerate and stablize in 2023. Sandalwood predicts that China e-commerce consumer electronics market can grow 10% in 2023. The smart phone market is expected to steadily grow into the normal range, with 3% YoY growth to 95 million units. Sandalwood also predicts EV penetration to exceed 35% in 2023.
Consumer electronics brands are moving towards a full-scene, all-encompassing competitive stage. Among the top 10 consumer electronics brands in the 2022 e-commerce market, smartphone manufacturers held 5 seats, PC manufacturers held 1 seat, and home appliance manufacturers held 4 seats. The top three brands were Apple, Midea, and Xiaomi. As a newcomer since 2010, Xiaomi has become one of the top three e-commerce technology brands in all categories. Huawei, whose smartphone business has been affected, is gradually stabilizing its full-scene layout.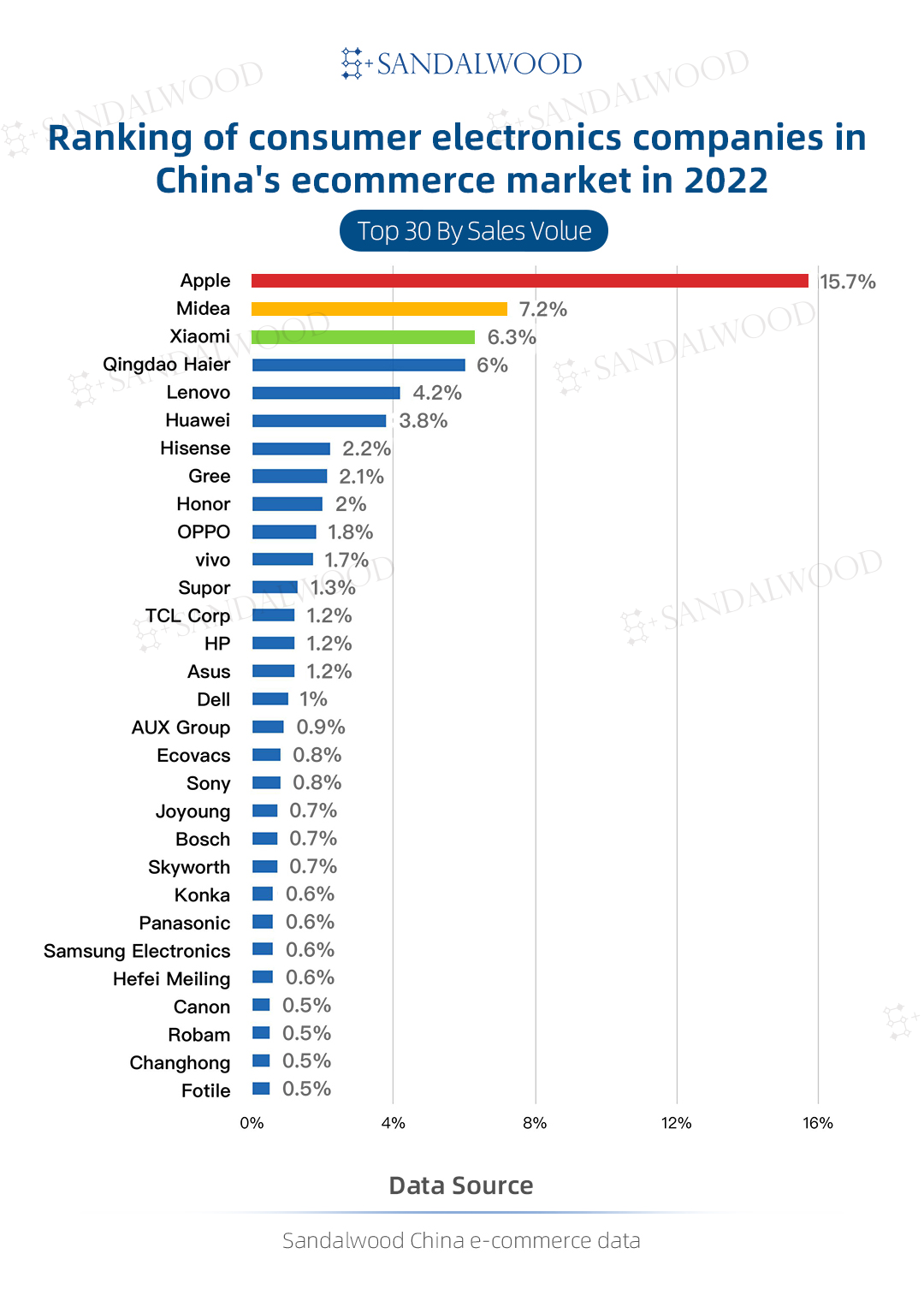 Looking ahead to 2030, the integration and development of technology products is continually redefining category boundaries. In the overall competition for the smart phone, wearable device, smart home, and smart car terminal markets, the technology electronics category is surely filled with greater imagination. The competition landscape of technology terminal manufacturers will be reshaped as well.
The next generation of terminals, automated EV, consumer robots, AR/VR would require manufacturers to establish R&D capabilities in chips, operating systems, and artificial intelligence. They must also have the ability for software-hardware collaboration and software-defined terminal, while creating an ecosystem of applications and business models in the smart home and smart car application and service fields that are no less than the mobile Internet. Consumer stickness is also key which demands manufacturers to create immersive and interactive experiences by integrating mobile, home, travel, and office scenes. Moving forward, winning the race would require manufacturers to have cross-category collaboration capabilities in software and hardware, connect full-scene interactive experiences, and build convenient ecosystems, applications, and service business models.
For latest data and trend, contact us at service@sandalwoodadvisors.com.