Sandalwood China Supermarket Data showed that the Liquid milk market sales were stable in past three years. Supermarket Channel liquid milk sales were 66.4/67.3/64.1 bRMB in 2020/2021/2022 respectively.1H23 sales remained similar level as last year, ~32 bRMB.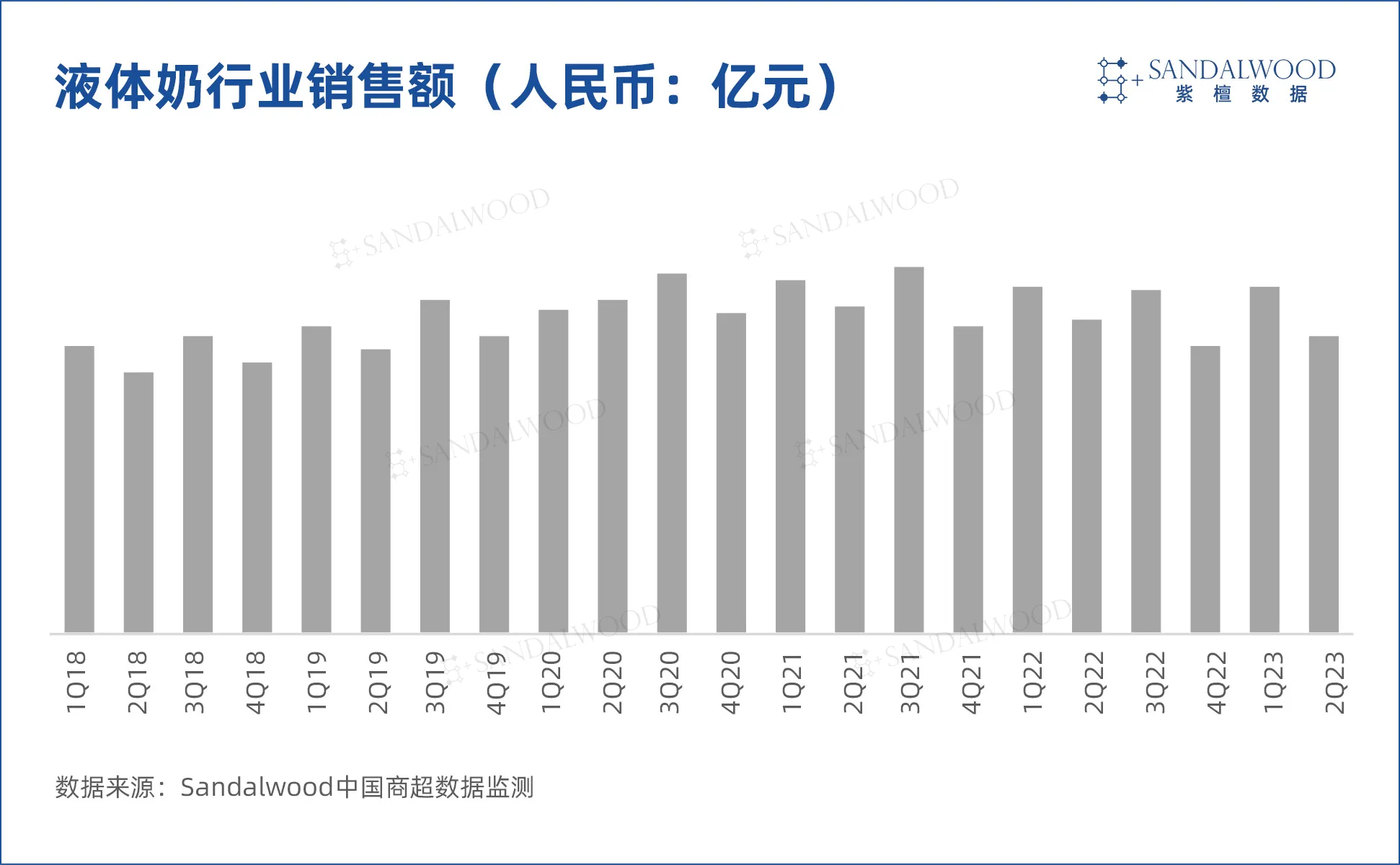 However, this seemingly calm market may be reaching a subtle turning point.
1、Dual Dominance: Mengniu and Yili Continue to Gain the Market Shares
In the liquid milk market, Mengniu and Yili are undoubtedly the two most influential players. Sandalwood data shows that in 1H23, Mengniu and Yili together accounted for nearly 70% of the market share in supermarket channel, far surpassing third and fourth place, whose combined market share is around 10%.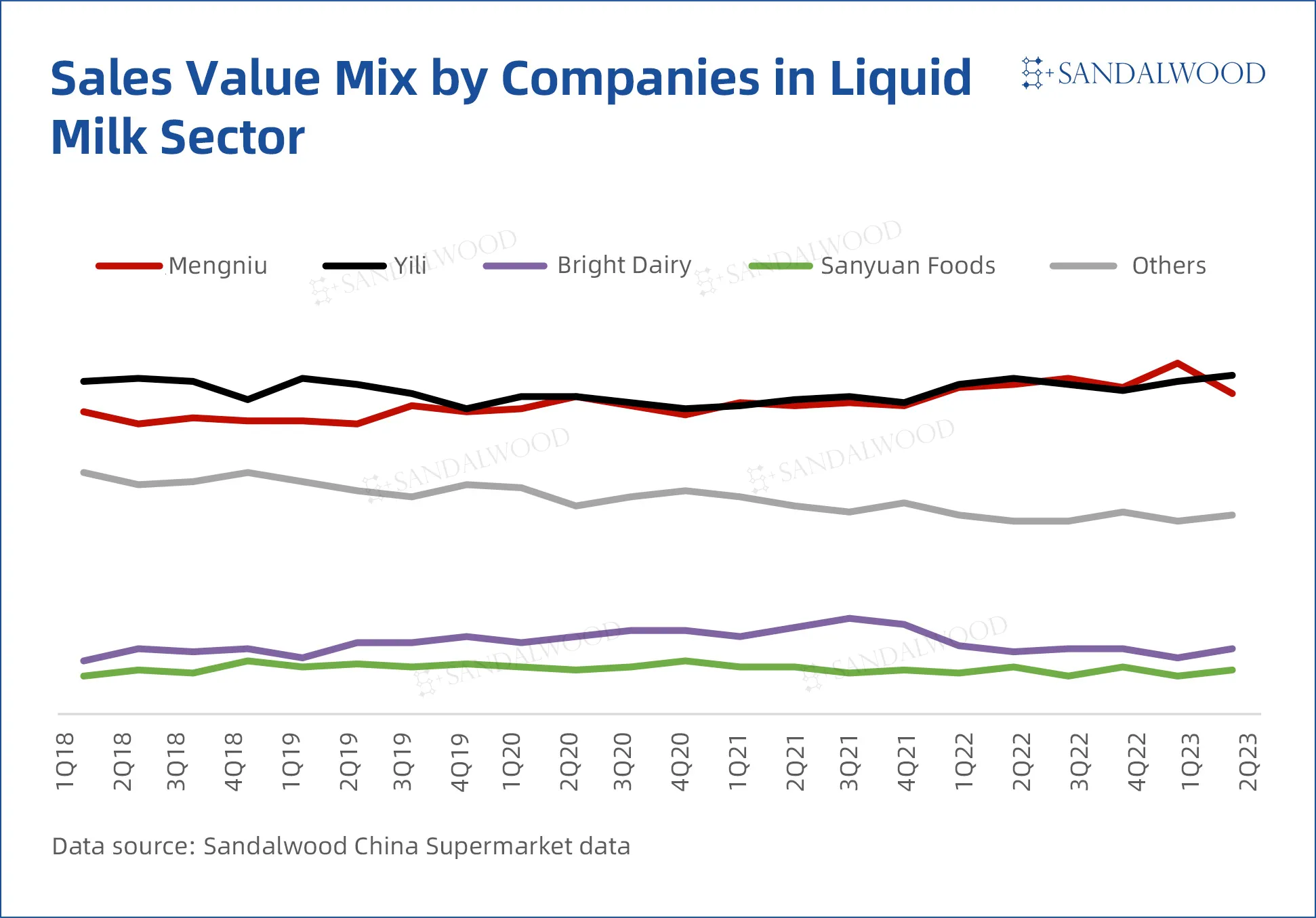 At the same time, the gap between leading companies and followers continues to widen. From 2020 to 2023, Mengniu and Yili captured nearly 5% of the market share from their competitors. Mengniu's impressive performance can be attributed to its excellent marketing and branding strategies, and perhaps also to its high-end positioning.
02、Mengniu Continues to Grow on a High Base: Initial Success in Premiumization
Mengniu's ability to continue its annual growth with a high base is mainly driven by its premium "Deluxe" line.
Sandalwood data shows that since 2018, the proportion of the "Deluxe" series in Mengniu's liquid milk has been increasing steadily, rising from 51% in 1H18 to 60% in 1H23.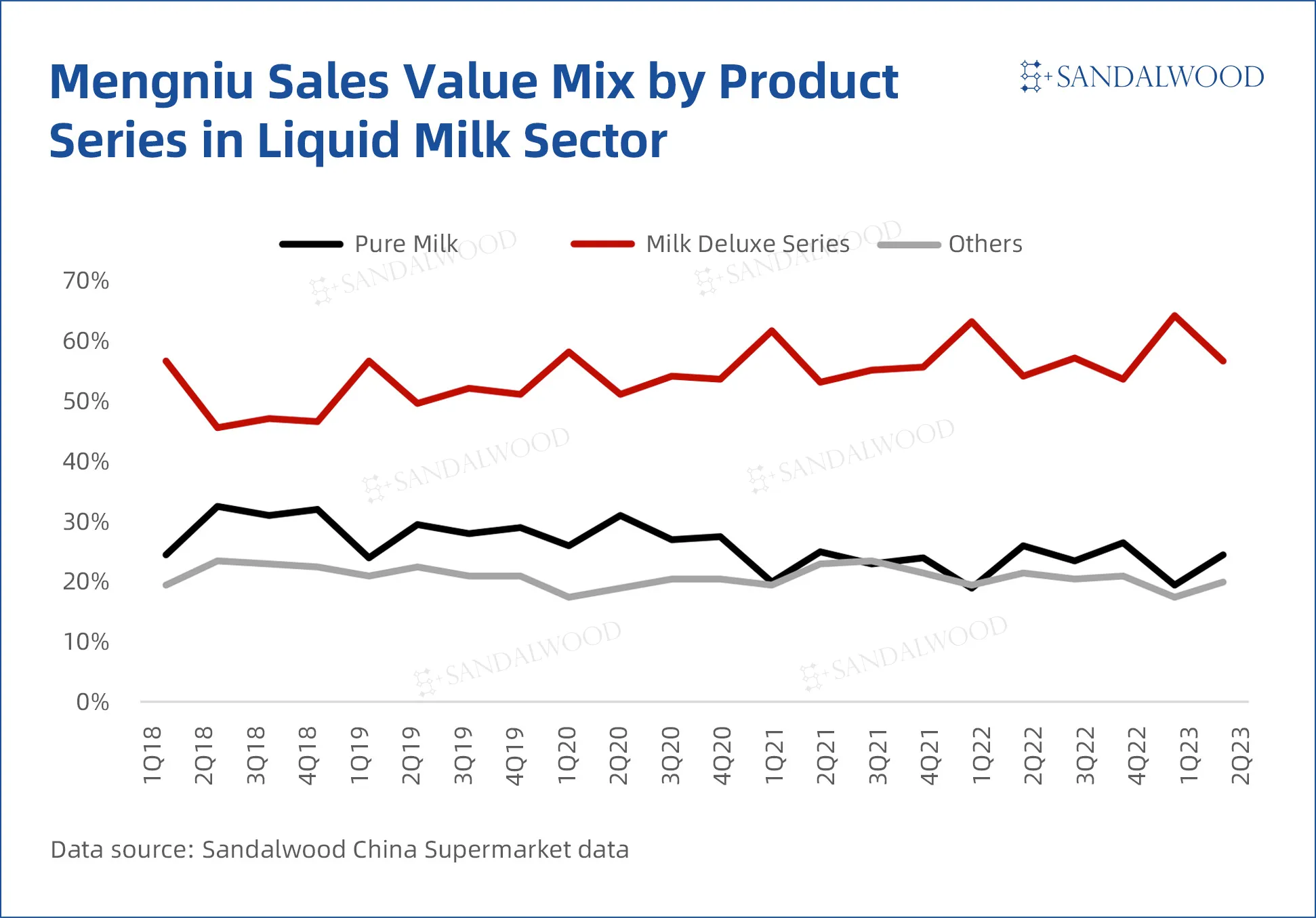 The data reveals that not only does the "Deluxe" series see a significant increase in sales during gift-giving festivals, but it also gradually gains momentum during regular consumption periods. This fully illustrates that Mengniu, as an outstanding company, has achieved unique success on the road to premiumization through long-term proactive market insight and differentiated product offerings.
3、Continuous Innovation: The Renewal and Upgrading of "Deluxe"
The market growth of the "Deluxe" series may stem from continuous product innovation and effective pricing strategies. To cater to the market's high demand for comprehensive nutrition and food safety, Mengniu has introduced an "organic" sub-series. In addition, Mengniu has introduced a "lid" design to enhance the user experience of the product.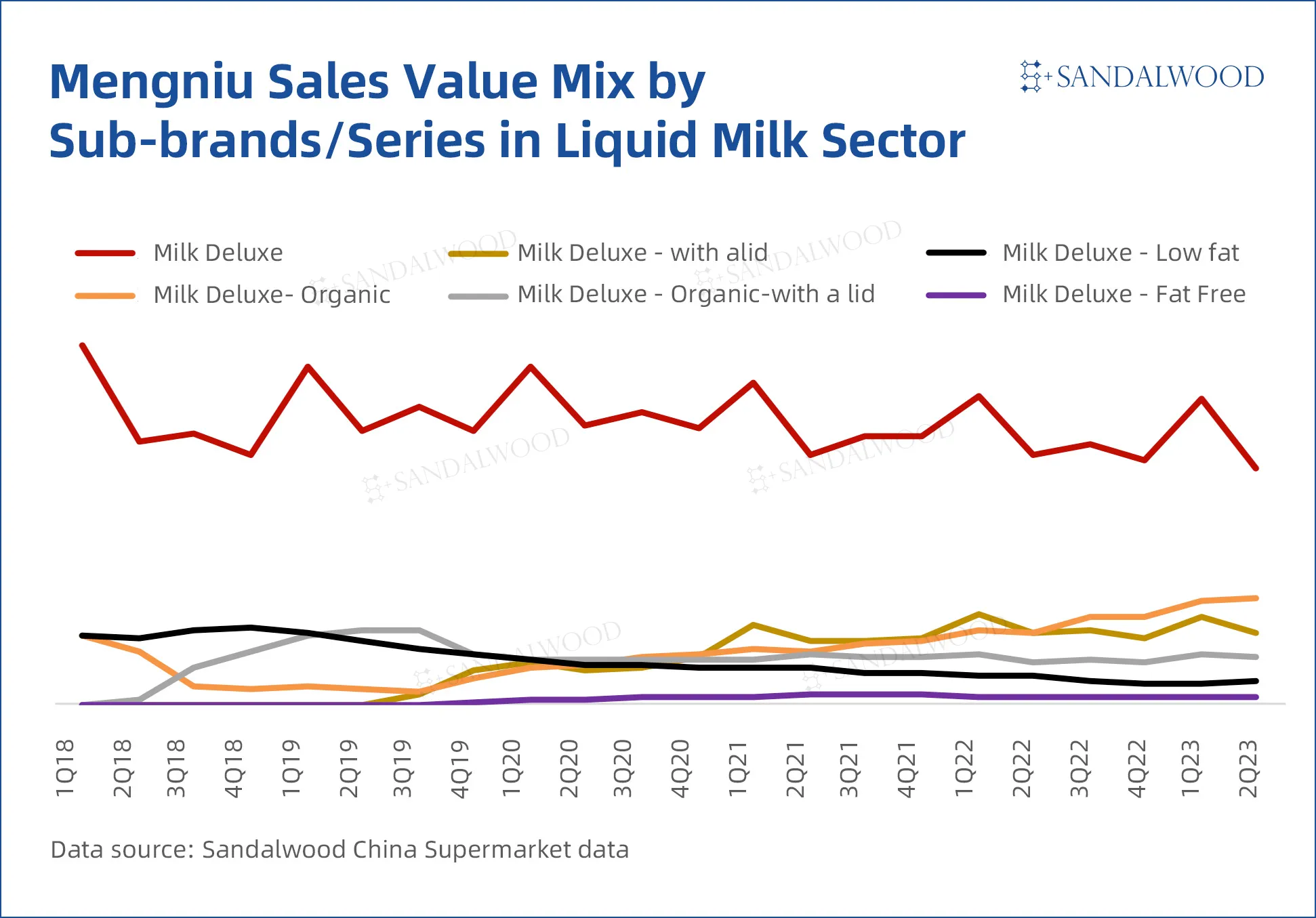 Product upgrading and iterations not only increase Mengniu's market share but also successfully elevate the average selling price. Sandalwood's data shows that in 1H23, the per-milliliter unit price of Mengniu's liquid milk in supermarket channel increased by 12% compared to the same period in 2018.
Interestingly, the unit price of the lower-priced pure milk series grew by 13%, while the "Deluxe" series dropped by 6%. Mengniu's savvy lies in using a price increase strategy for the less price-sensitive low-cost series, while maintaining competitive pricing for the high-cost premium milk, ultimately achieving an overall increase in the unit price through product mix optimization.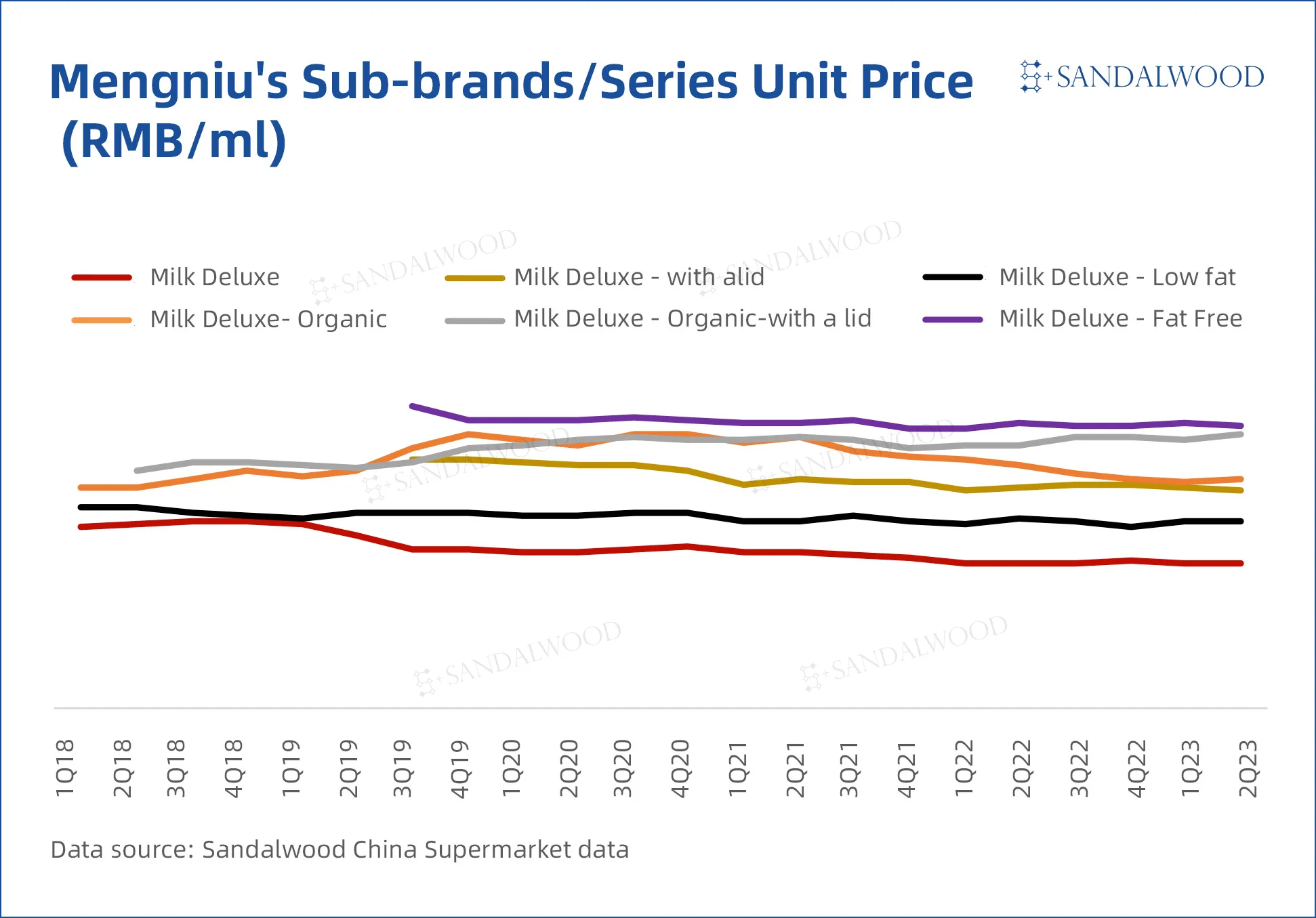 Sandalwood continuously monitors the market performance of fast-moving consumer goods through supermarket channel, including key market data such as market share, SKU, and pricing. For more information, please contact us at Service@Sandalwoodadvisors.com.