In the first three quarters of 2023, the Chinese consumer electronics market has seen rapid evolution in integrated terminals, with manufacturers adopting increasingly clear multi-device collaborative strategies. Various devices, such as large-screen phones, folding screen phones, portable tablets, slim notebooks, and large-size TVs, have all achieved strong growth. The competitive and collaborative interactions between terminal products are intensifying. Smartphone manufacturers are displaying extensive market competitiveness through multi-scenario product layouts, and in the broader market, terminal manufacturers of various kinds will engage in more intense competition in the integrated market.
From NIO Phone to Snapdragon X Elite: Terminal Manufacturers Strengthen Multi-device Collaboration Strategies
Recently, NIO released the NIO Phone, and Xiaomi launched the "Human x Car x Home Ecosystem Strategy" along with the Hyper OS. Huawei's HarmonyOS 4 has been upgraded on more than 100 million devices, covering 98 Huawei products. Qualcomm has also launched a new processor designed for the PC market—Snapdragon X Elite, demonstrating that terminal manufacturers are gradually clarifying their multi-device strategies. From the perspective of user needs and usage scenarios, terminal products and services that can provide seamless experiences, personalized services, and efficient multitasking will be more likely to meet user needs, adapt to market changes, and secure better development opportunities.
Sales Volume and Growth Trends: Integrated Scenario Terminals Lead Market Growth
Terminal devices such as watches, phones, tablets, notebooks, TVs, and smart cars offer a rich array of solutions tailored to specific application scenarios and functional characteristics, spanning mobile communication, work and study, home entertainment, and smart transportation. These devices form an independent yet interconnected device ecosystem based on advanced chip technology, operating systems, and internet ecosystems.
According to Sandalwood China e-Commerce Market Monitoring data, from January to September 2023, sales volumes of phones, notebooks, and TVs decreased by 1%, 4%, and 6% year-on-year, respectively, while VR all-in-one machines saw a significant 62% decline. In contrast, sales volumes of tablets and smart wristwear devices grew by 17% and 4%, respectively.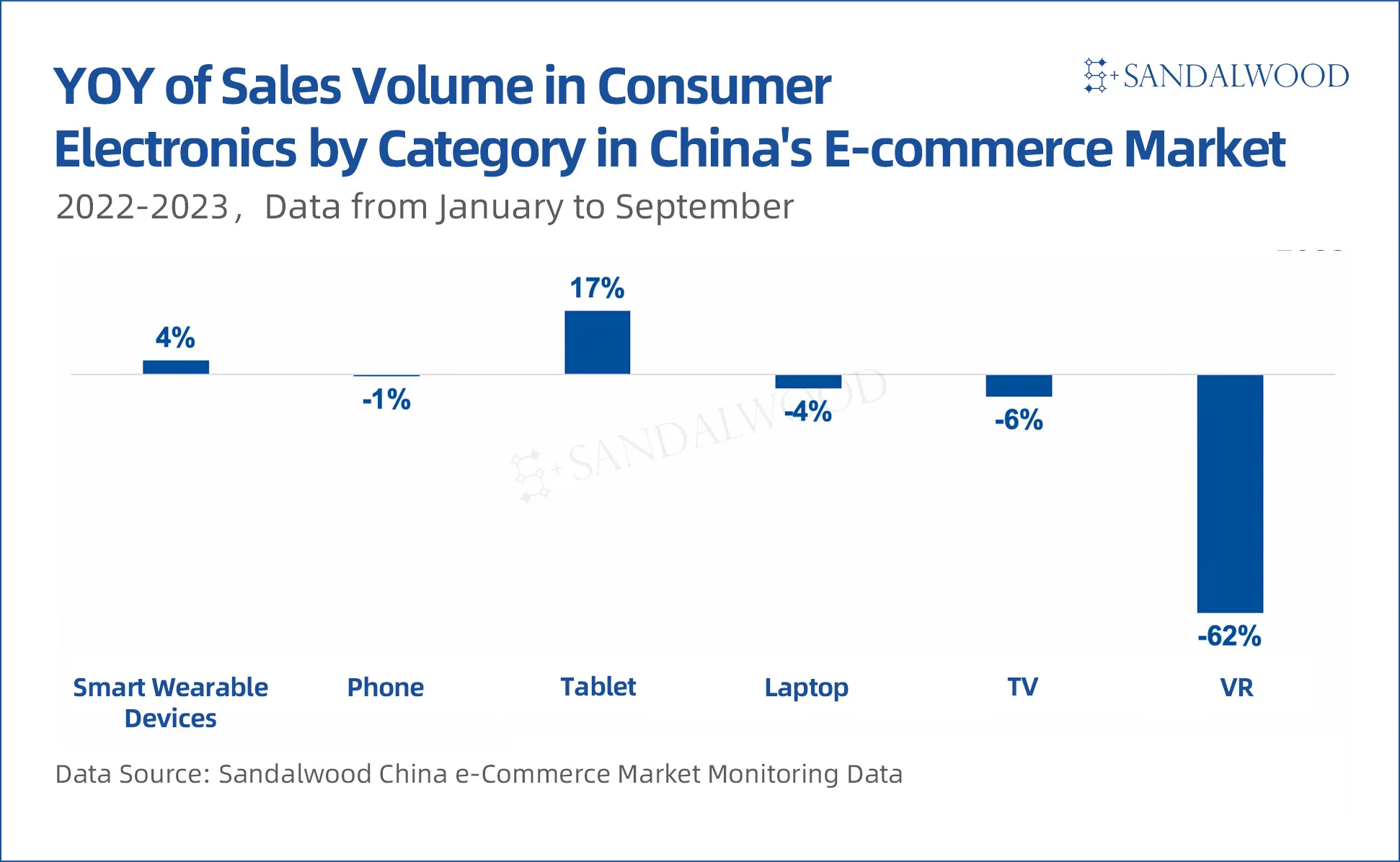 Phones, as all-scenario terminals, maintained stability, while notebooks and TVs, serving as productivity tools and entertainment centers in fixed scenarios, experienced a decline in sales. Tablets, with their portability and relatively productive experience, and smart wristwear devices, benefiting from real-time information access and health monitoring features, both achieved steady growth.
Sales Revenue and Growth Trends: Mobile Devices Show Stronger Adaptability
From the perspective of ecological evolution, the development of devices reflects their adaptability and diversity. They meet various usage needs through different shapes, sizes, and functions. For example, phones and watches are suitable for portability, while notebooks and TVs are more suitable for providing high-quality visual experiences in fixed scenarios due to their larger screens. The competition between devices has driven technological progress and the integration of functions, as seen in the competition between phones and tablets, notebooks and desktops, and tablets and notebooks. Meanwhile, devices achieve interdependence through interconnected resource and function sharing, as demonstrated by the connectivity between phones and smart watches, and between in-car systems and phones.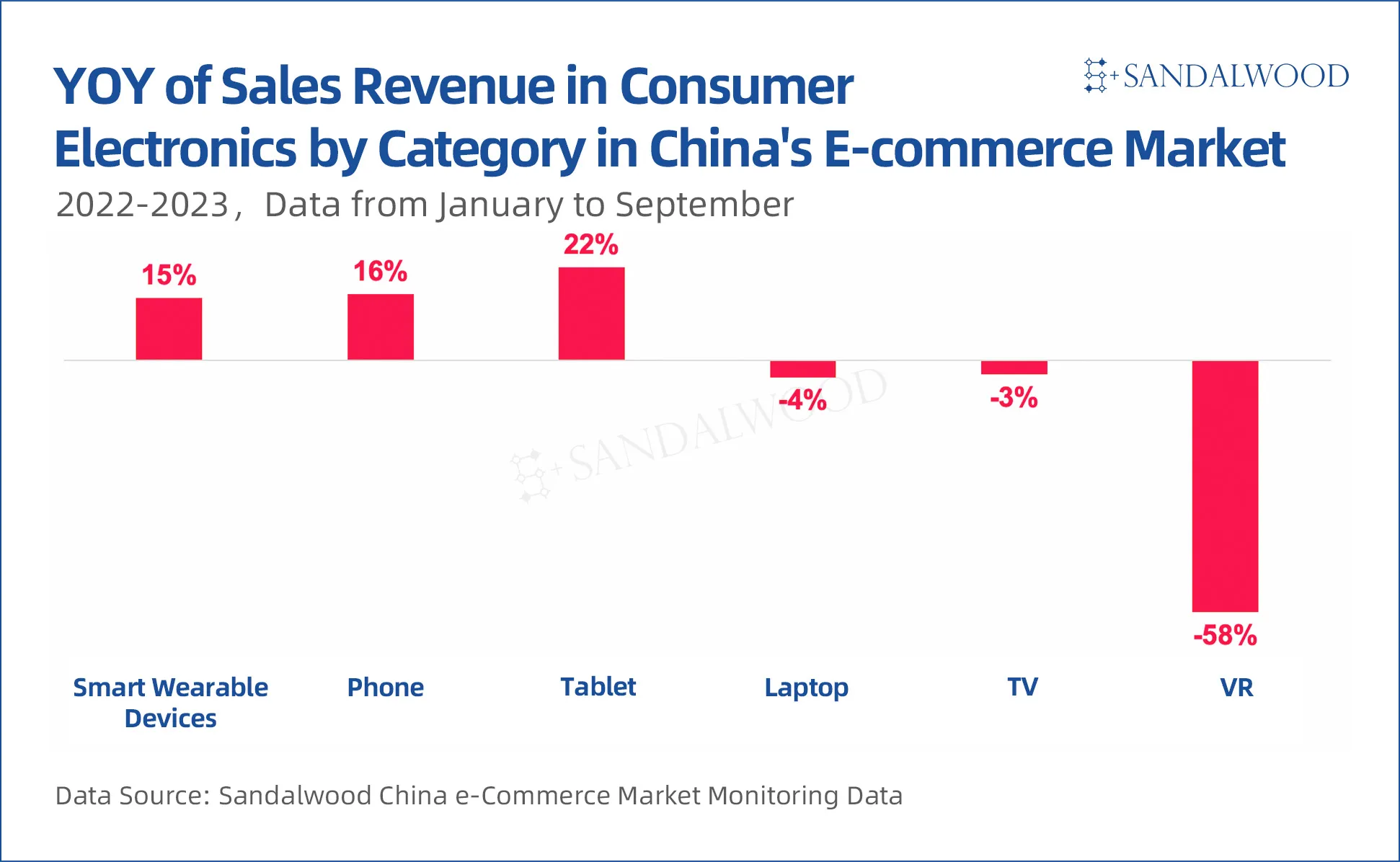 According to Sandalwood China e-Commerce Market Monitoring data, from January to September, in terms of sales revenue by category, mobile devices outperformed fixed-scenario devices in value growth. Sandalwood's data shows that during this period, tablets achieved a 22% growth rate, leading other devices, while phones and smart wristwear devices grew by 16% and 15%, respectively. Conversely, growth rates for notebooks and TVs in fixed scenarios declined by 4% and 3%, respectively, and VR all-in-one machines plummeted by 58%. This reflects that, compared to fixed devices, mobile devices demonstrate stronger adaptability and vitality in meeting user needs.
Analyzing Equipment Development Trends from Average Pricing: Continuous Upgrades and Polarization
Looking at the development of various product categories on their own, different devices demonstrate their unique potential and momentum. According to Sandalwood China e-Commerce Market Monitoring data, in the first three quarters of 2023, smartphones showed the most significant increase in average selling price, at 16.1%, followed by VR all-in-one machines and smart wrist wearables, with increases of 10.8% and 10.6%, respectively. In comparison, the price growth rates of tablets and TVs were relatively low, at 4.4% and 2.8%, respectively, while the average selling price of laptops saw a slight decrease of 0.2%. This reflects the differences in market competition status and development potential among different devices.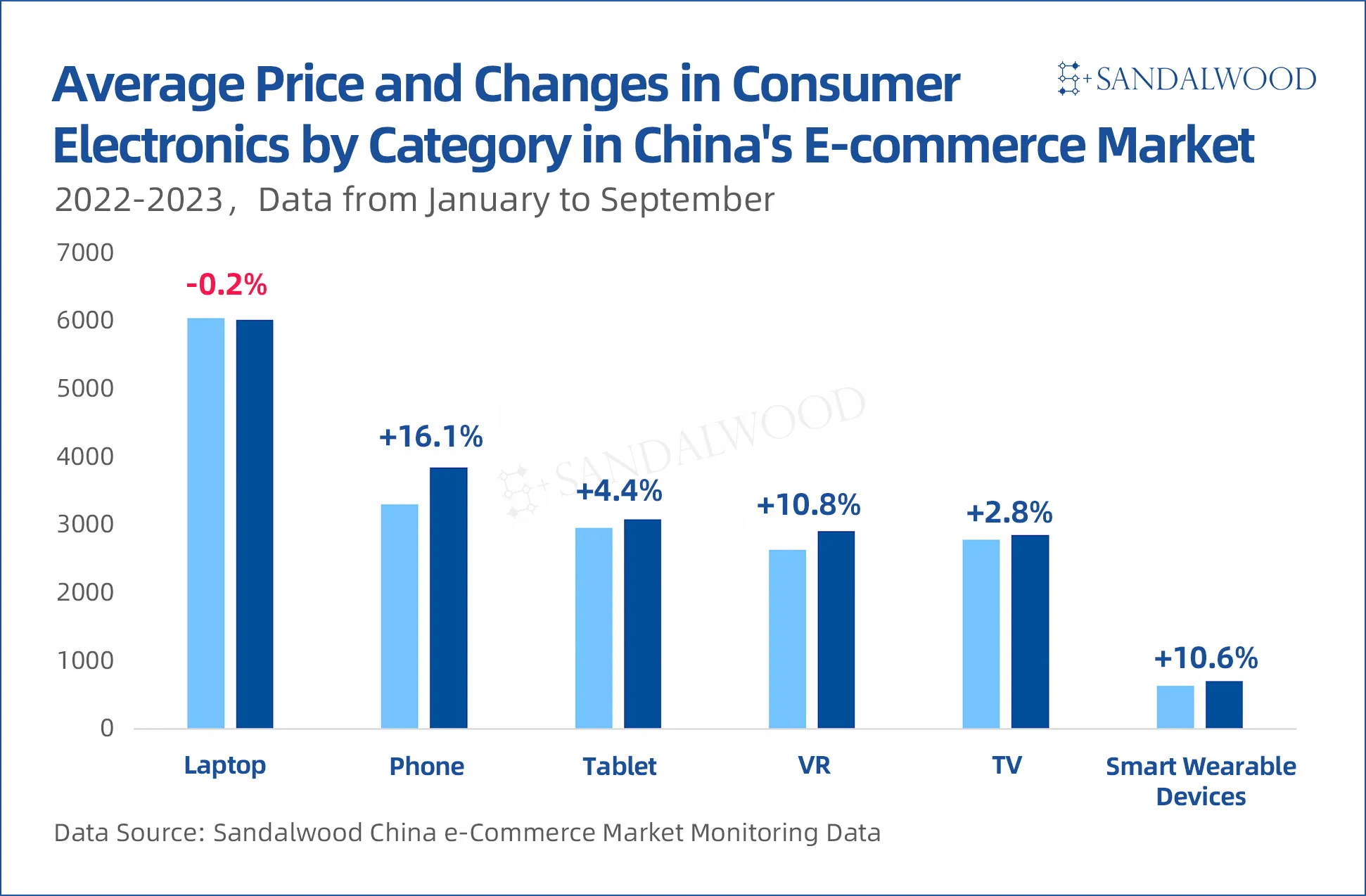 The potential of price momentum is reflected in the price range structure of different product categories. Mobile devices, such as smartphones and smart wearables, are upgrading towards higher-end price ranges. In contrast, the price ranges of laptops, tablets, and TVs are showing a trend of polarization: on one hand, the high-end market's pursuit of professional performance and high quality is driving the development of professional-grade products; on the other hand, the price sensitivity of the entry-level market is encouraging the growth of more economical products.
However, the situation for VR all-in-one machines is somewhat special. Due to product and market immaturity, the entry-level market in the 1000-2000 RMB range has experienced a significant decline.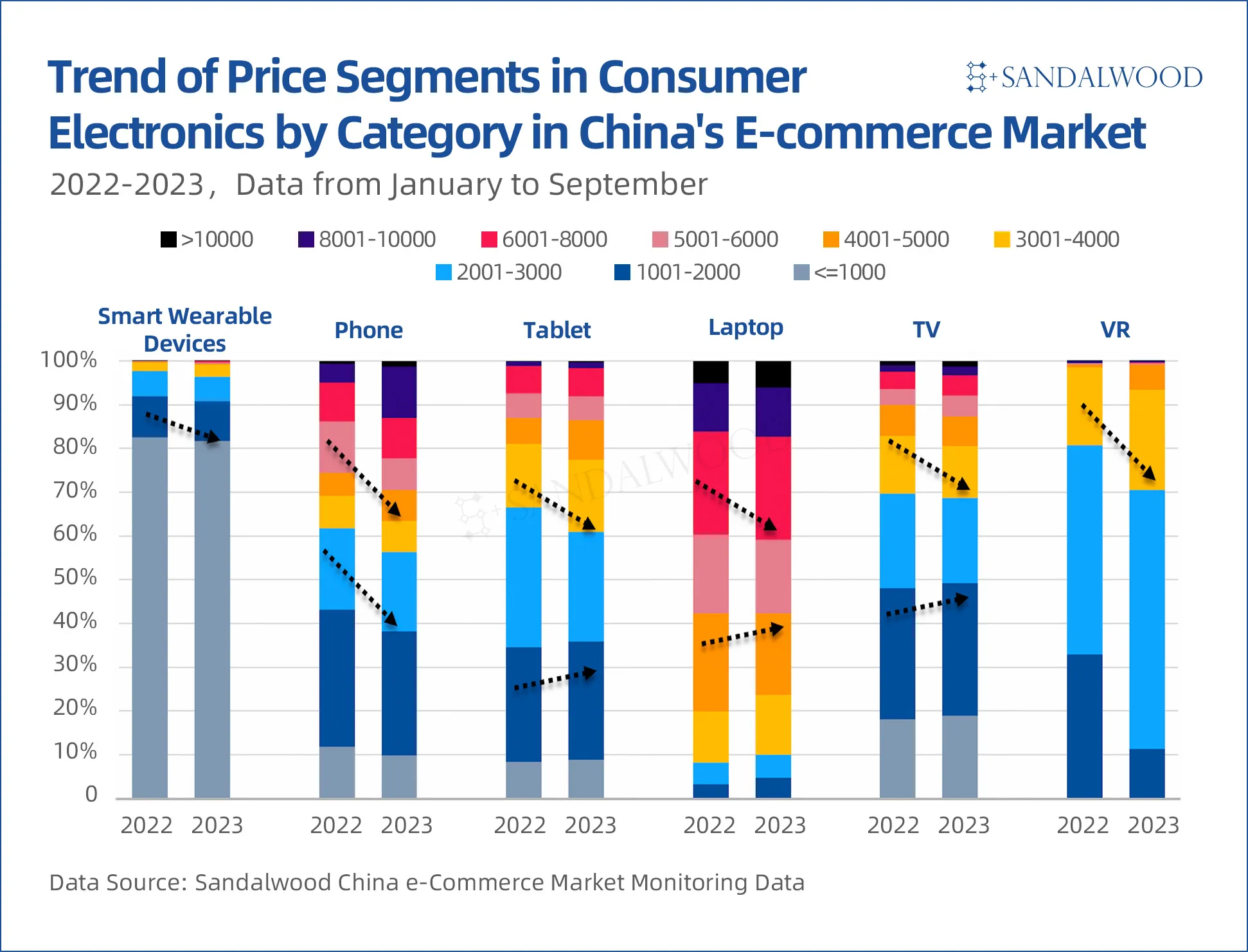 From 1 Inch to 100 Inches: Growth Opportunities in the Integration of Smart Devices
Screen size is an important factor in device functionality and user requirements. According to Sandalwood China e-Commerce Market Monitoring data, we can observe the following trends:
Smartphones: There is a 10% YoY increase in large-screen smartphones of 6.5-7 inches, and an even more significant 126% increase in folding screen phones of 7.5-8 inches, demonstrating a continuous demand for larger screens and eagerness for new technology and innovative designs.
Tablets: There is a growth in sales of small-sized tablets of 8.5-10 inches, while 8-8.5-inch tablets have decreased by 39%, reflecting a trend of replacement and upgrading. Productivity tablets of 11.5-12 inches have grown by 197%, showing their balance advantage between portability and efficient work.
Laptops: Light laptops of 12-12.5 inches have increased by 110%, indicating a market demand for light and efficient laptops. Gaming laptops of 18-18.5 inches have seen the most significant growth, reflecting the prosperity of the gaming market and the pursuit of high-performance devices.
TVs: The sales of 75, 85, 90, and 100-inch TVs have increased by 100%-500%, showing an increased demand for home entertainment and large-screen viewing experiences as housing upgrades.
Overall, different sizes and types of devices are adapting to market demands and technological developments, displaying unique growth trends and market positions.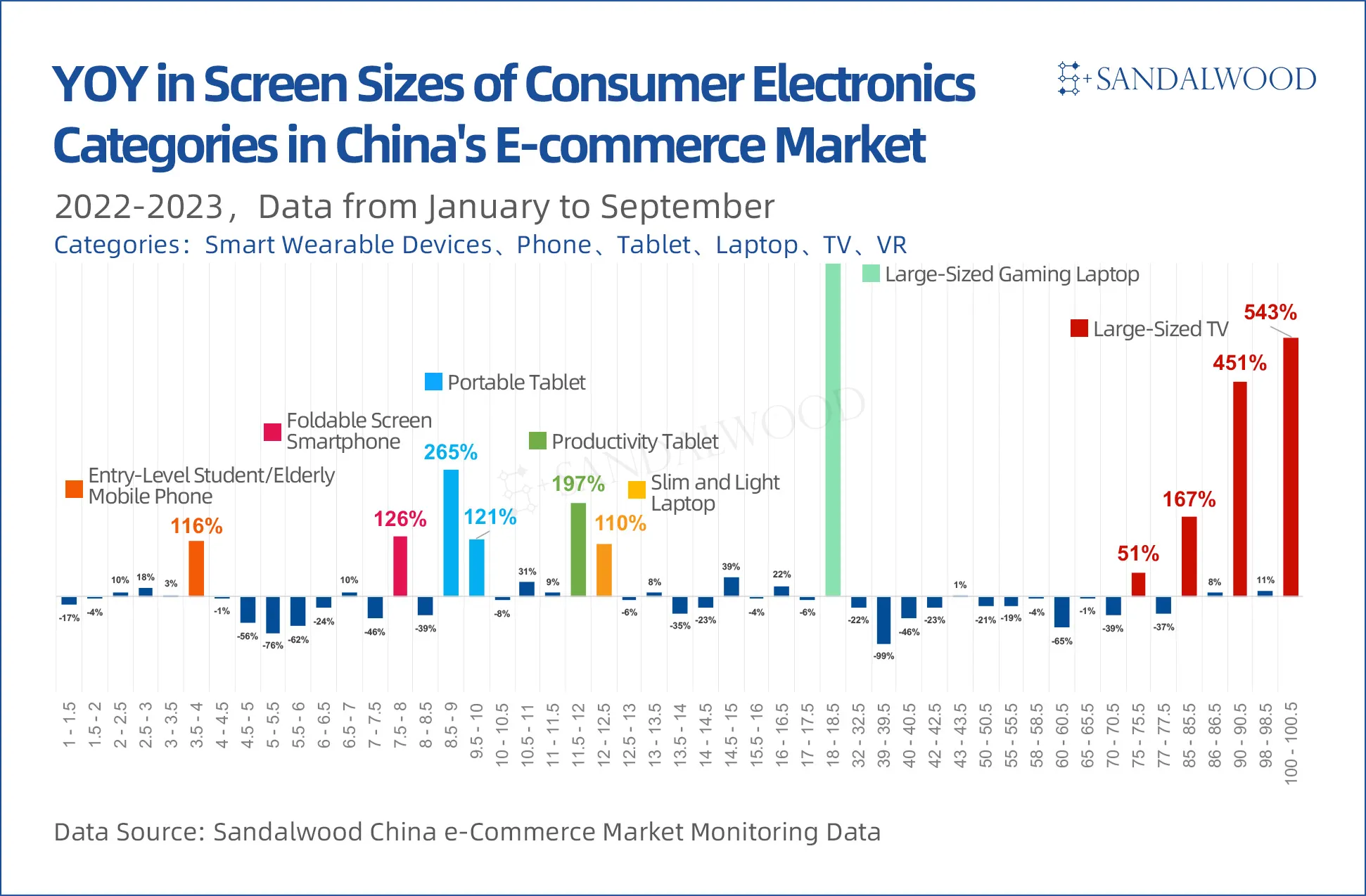 From Screens to Natural Language: New Trends in Smart Device Interaction
User demands are reshaping the ways we interact with computing devices. As terminal devices evolve towards multi-screen integration, we have witnessed the emergence of various forms of interaction, including mouse, keyboard, remote control, touch, gestures, etc., enriching user experiences around screen interfaces.
Through interaction with advanced natural language processing technologies such as ChatGPT, users can now communicate directly with computing devices using natural language, rather than being limited to touchscreen or keyboard inputs of specific commands. This not only makes information processing more intuitive and convenient but also brings new ways of interaction and processing to terminal devices, with the potential to redefine the future of portable technological devices.
We look forward to seeing how these innovations will further enhance user experiences, making technology more closely aligned with and tailored to people's daily lives and work.
Mobile Chip Manufacturers Strengthen Cross-Domain Layouts, Driving the Evolution of Smart Devices towards Intelligence
With the strengthening trend of multi-device integration, chip manufacturers are facing challenges in cross-domain chip layout. According to Sandalwood China e-Commerce Market Monitoring data, we can observe the performance differences among different processor manufacturers in the computing device markets of smartphones, tablets, laptops, and VR all-in-one machines.
QUALCOMM leads the market with a growth rate of 21%, followed closely by APPLE with 12%. Meanwhile, INTEL's sales volume remains stable, with a growth rate of 0%.
QUALCOMM's latest Snapdragon 8Gen3 processor performs excellently in terms of edgel AI and generative AI capabilities, with computing power sufficient to support running large models with tens of billions of parameters on mobile devices. This marks a transition of smartphones from traditional communication and computing devices to intelligent devices with strong data processing and learning capabilities, truly stepping into a new era of intelligent phones.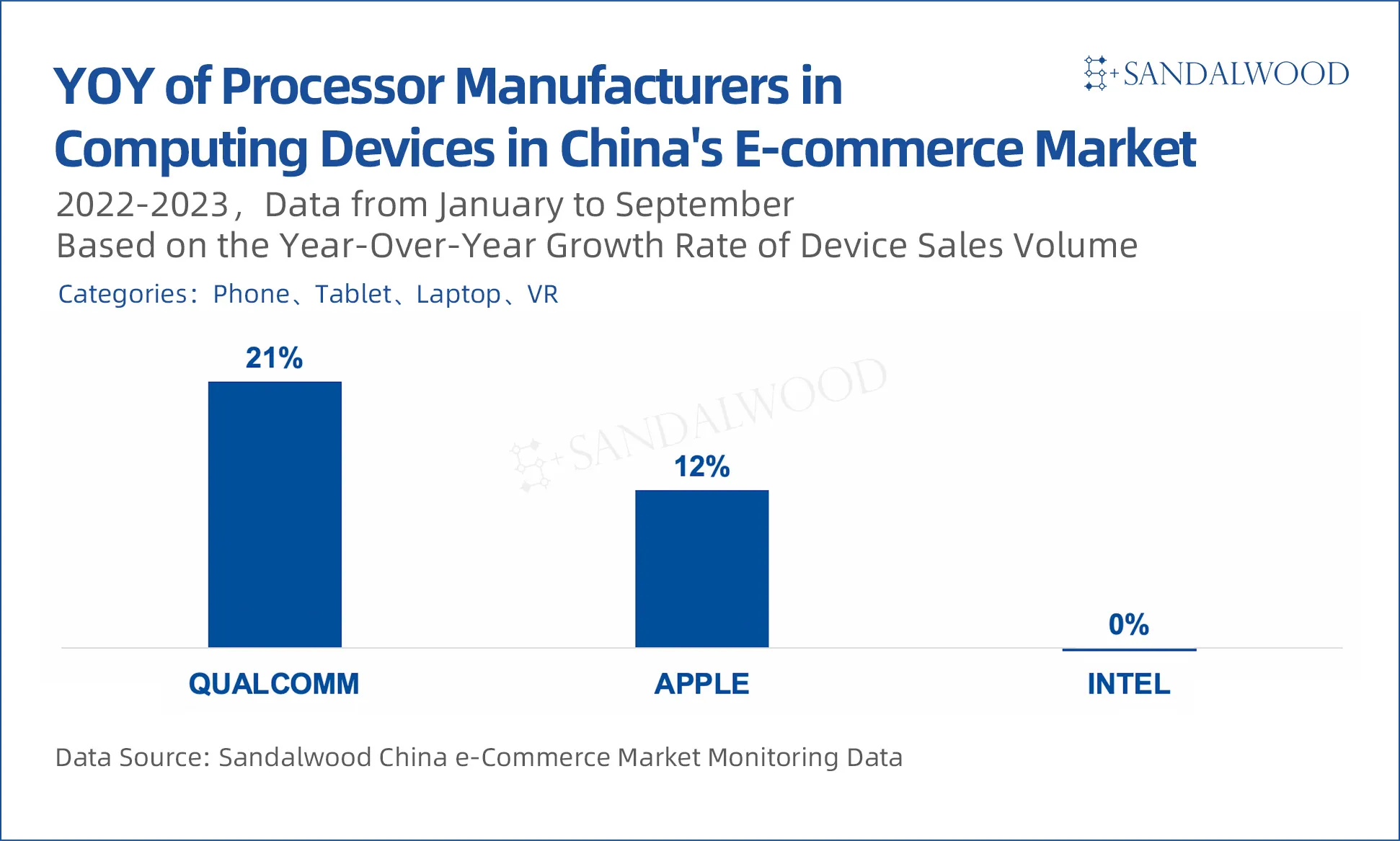 This transition is not only reflected in the improvement of processing capabilities but also reflects the market's growing demand for more intelligent and efficient devices, pushing chip manufacturers to innovate continuously to meet diverse and high-end market needs.
Smartphones: Extensive Compatibility in a Multi-Device Ecosystem
Smartphones are gradually evolving into an all-scenario terminal, with applications expanding across different fields, enhancing user experience in terms of convenience, practicality, and intelligence.
Connection with Smart Watches: Smartphones can sync with smartwatches through wireless connections, providing notifications, health tracking, remote control, and personalized services, enhancing user experience in terms of convenience and practicality.
Smart Home Control: Smartphones significantly improve the convenience and security of smart homes through remote control, security monitoring, home automation, and voice control functions.
Collaboration with Personal Computers: Through file synchronization, remote access, and message sharing functions, smartphones work closely with personal computers, improving work efficiency.
Applications in Transportation: Smartphones easily connect to smart cars, becoming a device that enhances interaction and experience between people and cars.
Smartphone Manufacturers: Adaptability and Layout in a Multi-Device Ecosystem
From the perspective of multi-device layout, in the smartphone market, 99% of manufacturers consider smartphones as their main business. Meanwhile, smartphone manufacturers also demonstrate strong adaptability in the multi-device field, with market shares in laptops and TVs reaching 19% and 27%, respectively, and even higher in tablets and smart wearables, at 74% and 41% respectively. This shows the extensive layout of smartphone manufacturers in the multi-device field, and competition in the future integration market will further unfold among terminal manufacturers with various genes.